Master
Media Component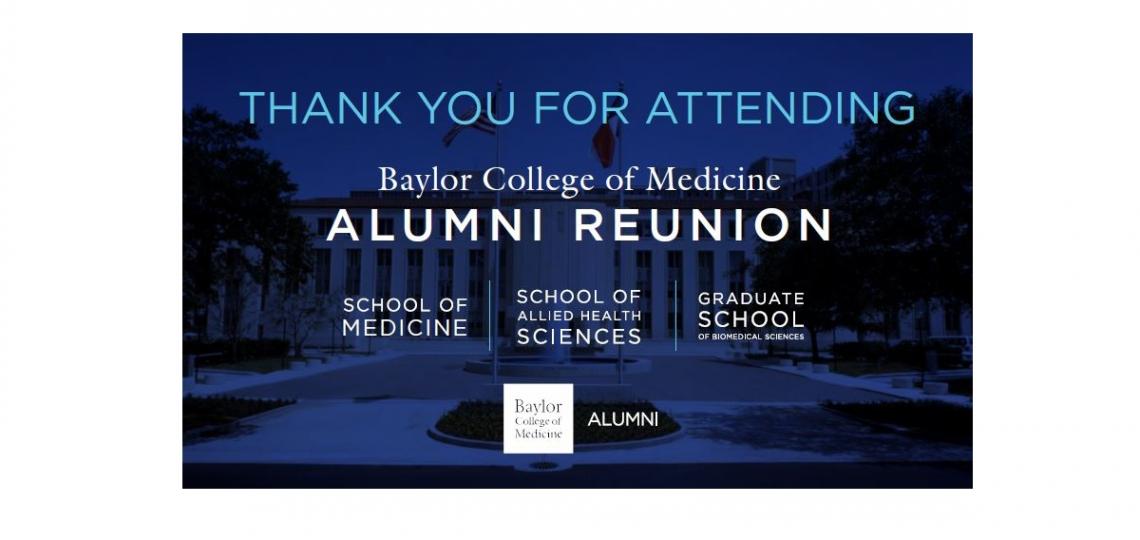 Heading
Alumni Reunion 2018
Content
The 2018 Baylor College of Medicine Alumni Reunion kicked off on Thursday, May 3, with the Alumni Awards and Recognition Dinner at the Four Seasons Hotel. Former and current Baylor faculty and trainees and their family members were in attendance as a total of 15 individuals were awarded.

Dr. Paul Klotman president, CEO and executive dean of Baylor, gave opening remarks, welcoming alumni, faculty and friends of Baylor to the 2018 Alumni Awards and Recognition Dinner.

"We come together to celebrate the women and men who are leading education, research, healthcare and community service as alumni or faculty members of Baylor. On behalf of the Board of Trustees, the faculty, staff and trainees, thank you for being ambassadors of Baylor College of Medicine," he said.

Alumni and faculty of the Medical School, Graduate School of Biomedical Sciences, School of Health Professions and National School of Tropical Medicine were recognized for excellence in achievement and service.
Heading
Revisit Your Friends
Content
Go to the Facebook page for Baylor College of Medicine Alumni Relations and browse through the photos of Reunion events, activities and alumni who attended. Be sure and "like" the page itself and "tag" any photos of you or your friends. Invite others to "like" the page.
Reunion 2018 Photos
Heading
2018 Alumni Awards
Content
Read about the honors given to alumni from Baylor College of Medicine and the qualifications to receive an award.