Master
Media Component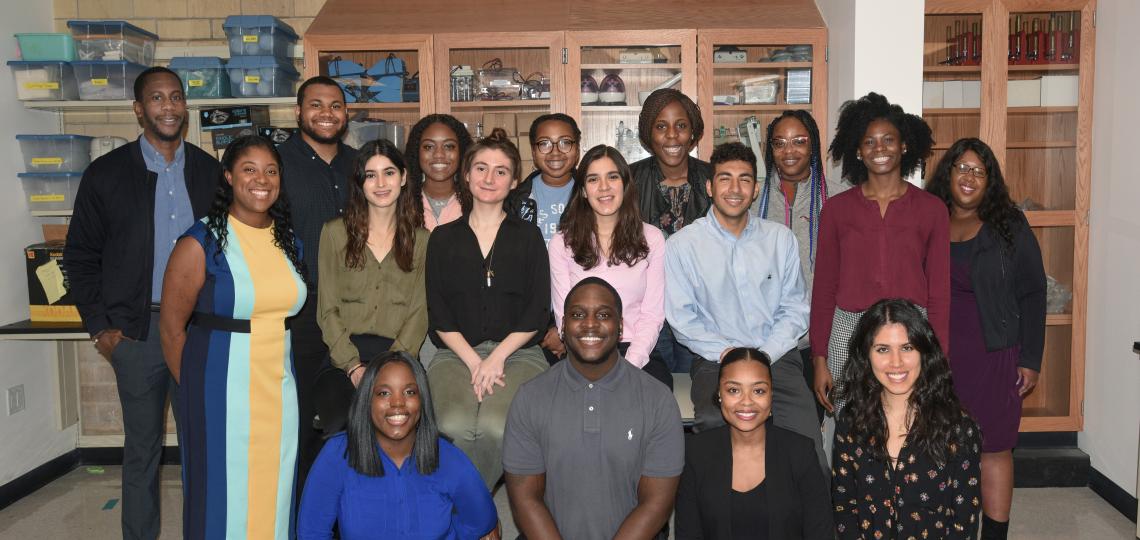 Content
Group photo of the 2019-2020 Center of Excellence in Health Equity, Training and Research TPP Scholars (undergraduate and post-baccalaureate students).
Heading
About the Program
Content
Applications for the 2021-2022 Cohort will open in late November 2020.
Program Length: Transformed Post-baccalaureate Premedical (TPP) Scholars Program students will participate in Center of Excellence in Health Equity, Training and Research activities over a 12-month period. Upon completion of the program, the goal is for a TPP student scholar to successfully matriculate into a M.D. or D.O. program at an accredited U.S. medical school. Alumni of the program will also continue to have access to resources, information, events and other relevant programs offered by the center.
Hours Per Week: For the 2021-2022 cohort of COE TPP student scholars, the time commitment for the program will be full-time from Aug. 2, 2021-July 22, 2022 plus required orientation activities during the month of July 2021. Students selected for this program will be required to commit to academic schedule associated with all program components.
Curricular Components: The program for TPP student scholars will include review of biological, physical and social sciences coursework; academic and career preparedness including MCAT test prep; community service, research and clinical observer (shadowing) opportunities; and assistance with the medical school admissions process, including application and interview prep.
Stipend: $1,500 (scholars will be responsible for arranging their own room and board and current health insurance while participating in the program).
Content
Eligibility
For Applicants Who Have Earned a Bachelor's Degree or Higher
(1) Applicant must be a U.S. citizen or permanent resident
(2) Applicant must be from an eligible underrepresented minority population (Black or African-American, Native American, Alaskan Native, Eskimo, Aleutian, Native Hawaiian or Other Pacific Islander, and Hispanic or Latino)*
(3) Applicant must have earned an undergraduate degree from a regionally accredited U.S. college or university
(4) Applicant must not have previously been accepted into or be currently in the Texas Joint Admission Medical Program (JAMP) program
(5) Applicant must have graduated in good standing, without professionalism concerns while enrolled as a student as confirmed by their dean of students/designee
(6) Applicant must have earned a minimum cumulative GPA & Biology-Chemistry-Physics-Math (BCPM) GPA of a 3.0 (scale is 4.00 = "A") from all college courses completed at the time of application
(7) Applicant must have previously completed four semesters of Biology (two at which must include lab experiences), two semesters of General Chemistry (with labs), two semesters of Organic Chemistry (with labs), two semesters of Physics (with labs), one semesters of English, one semester of Statistics, and one semester of Biochemistry with grades of C or better in each course
(8) Applicant must have previously taken Medical College Admission Test (MCAT) or Graduate Record Examination (GRE)
Content
* This is a required condition of the Health Resources and Services Administration Center of Excellence grant program. The goal of the COE program is to strengthen the national capacity to produce a quality healthcare workforce whose racial and ethnic diversity is representative of the U.S. population. For the COE grant program, eligible underrepresented minority populations includes Blacks or African-Americans, Native Americans, Alaska Natives, Eskimos, Aleuts, Native Hawaiians or Other Pacific Islanders, and Hispanics or Latinos.