Master
Media Component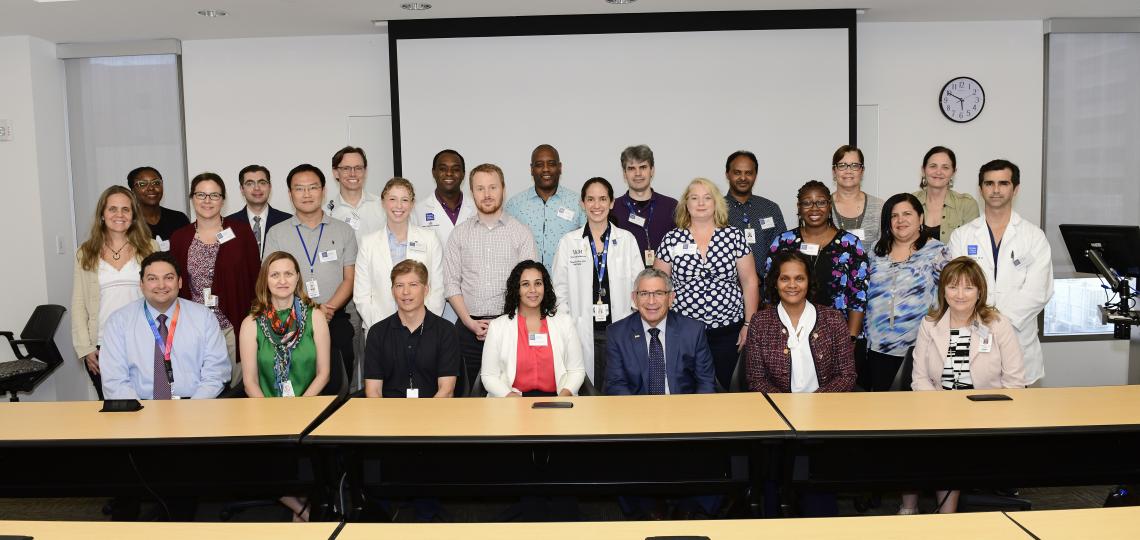 Content
(Pictured Pre-COVID) Group photo of the Faculty Inclusion Ambassadors at Baylor College of Medicine.
Content
The Inclusion and Equity Ambassador Program is led by the Office of Institutional Diversity, Inclusion and Equity. "Ambassadors" are an extension of the Offices of the President and Provost/SVP for Academic and Faculty Affairs and are appointed by their academic or administrative unit (e.g. department chair/center director, dean). Ambassadors support the College's diversity, inclusion, and equity goals in their respective units in the following ways:
Assist with the interview process for faculty and senior leadership within the department/center by the availability to provide information regarding Baylor's resources and climate/culture.
Participate with unit recruitment, onboarding, and advancement initiatives. 
Serve on search committees for faculty and staff when requested.
Act as a champion for engagement, inclusion, diversity, and equity across the College.
Content
Inclusion and Equity Ambassadors - Departments

| Department | Name |
| --- | --- |
| Anesthesiology | Darryl Robertson |
| Anesthesiology | Sonal Zambare, M.B.B.S. |
| Anesthesiology | Tiffany Brownewell, M.D. |
| Biochemistry & Molecular Biology | Qinghua Wang, Ph.D. |
| Dermatology | Rose Ewing |
| Dermatology | Zeena Y. Nawas, M.D. |
| Emergency Medicine | Adeodoyin Adesina, M.D. |
| Emergency Medicine | Titilola Alao, M.D.   |
| Family & Community Medicine | Ashley Siverand, M.B.A. |
| Family & Community Medicine | Jonnae Atkinson, M.D., M.S. |
| Family & Community Medicine | Matthew Horsfield, M.D. |
| Family & Community Medicine | Sandra Gonzalez, M.S. |
| Medicine | Edgardo Ordonez, M.D. |
| Medicine | Elisha Acosta, M.D. |
| Medicine | Juni Muhota-Langham |
| Molecular & Cellular Biology | Fabio Stossi, Ph.D. |
| Molecular & Cellular Biology | Neil McKenna, Ph.D. |
| Molecular & Cellular Biology | Xi Chen, Ph.D. |
| Molecular & Human Genetics | Debra Murray, Ph.D. |
| Molecular & Human Genetics | Graeme Mardon, Ph.D. |
| Molecular & Human Genetics | Susan D. Fernbach, R.N., B.S.N. |
| Molecular Physiology & Biophysics | Md. Abul Hassan Samee, Ph.D. |
| Molecular Physiology & Biophysics | Nicole Trieu, B.A. |
| Molecular Virology & Microbiology | Lynn Zechiedrich, Ph.D. |
| Molecular Virology & Microbiology | Paul D. Ling, Ph.D. |
| Molecular Virology & Microbiology | Ronald T. Javier, Ph.D. |
| Neurology | Adriana Strutt, Ph.D. |
| Neurology | Annise Wilson, M.D. |
| Neurology | Everton (Tony) Edmondson, M.D. |
| Neurology | Fariha Jamal, M.B.B.S. |
| Neurology | Fernando Cuascut, M.D., M.P.H. |
| Neuroscience | Melanie Samuel, Ph.D. |
| Neurosurgery | Alfonso Fuentes, M.D. |
| Obstetrics & Gynecology | Anitra Beasley, M.D., M.P.H. |
| Obstetrics & Gynecology | Christina Davidson, M.D. |
| Obstetrics & Gynecology | Jocelyn Greely, M.D. |
| Obstetrics & Gynecology | Nadine Perry Hylton, M.D. |
| Obstetrics & Gynecology | Tiffany Ostovar-Kermani |
| Ophthalmology | Ella Leung, M.D. |
| Orthopedic Surgery | Melvyn Harrington, M.D. |
| Orthopedic Surgery | Vinitha Shenava  |
| Otolaryngology - Head & Neck Surgery | Angela Peng, M.D. |
| Otolaryngology - Head & Neck Surgery | Deyanira Gonzalez, Au.D., ABAC |
| Otolaryngology - Head & Neck Surgery | Jasmine Green, R.N. |
| Otolaryngology - Head & Neck Surgery | Shraddha Mukerji, M.D. |
| Pathology & Immunology | Arthur Bracey, M.D. |
| Pathology & Immunology | Christine Roth, M.D. |
| Pathology & Immunology | Neda Zarrin-Khameh, M.D. |
| Pathology & Immunology | Sridevi Devaraj, Ph.D. |
| Pediatrics | Alice Obuobi, M.D., M.B.A. |
| Pediatrics | Keila Lopez, M.D., M.P.H. |
| Pediatrics | Maria Monica Gramatges, M.D. |
| Pediatrics | Maria Torres-Quiles, B.S. |
| Pediatrics | Michelle Lopez, M.D |
| Pediatrics | Pia Hughes |
| Pediatrics | Sharonda Alston-Taylor, M.D. |
| Pharmacology and Chemical Biology | Andrew McCullough, Ph.D |
| Pharmacology and Chemical Biology | Choel Kim, Ph.D. |
| Pharmacology and Chemical Biology | Damian Young, Ph.D. |
| Physical Medicine & Rehabilitation | Felicia Skelton-Dudley, M.D., M.S. |
| Psychiatry & Behavioral Sciences | Daryl Shorter, M.D. |
| Psychiatry & Behavioral Sciences | Hai Le, M.D. |
| Psychiatry & Behavioral Sciences | Jennifer O'Neil Bogwu, Ph.D. |
| Psychiatry & Behavioral Sciences | Jesus-Martin Maldonado-Duran, M.D. |
| Psychiatry & Behavioral Sciences | John Saunders, M.D., M.S. |
| Psychiatry & Behavioral Sciences | Jose Ribas Roca, M.D. |
| Radiation Oncology | Yohannes Ghebre, Ph.D. |
| Radiology | Tamara Ortiz-Perez, M.D. |
| Surgery | Christy Yoon-Hee Chai, M.D. |
| Surgery | Holly Shilstone, B.S. |
| Surgery | Ourania Preventza, M.D., M.B.A. |
| Surgery | Ronnetta Etter, M.B.A. |
| Urology | Carolina Jorgez, Ph.D. |
Content
Inclusion and Equity Ambassadors - Academic Centers

| Academic Center | Name |
| --- | --- |
| Cell & Gene Therapy and the Shell Center for Gene Therapy | Rayne Rouce, M.D. |
| Center for Medical Ethics & Health Policy | Amanda Gutierrez, B.A. |
| Center for Medical Ethics & Health Policy | Katrina Munoz |
| Center for Medical Ethics & Health Policy | Stephanie Morain, Ph.D., M.P.H. |
| Center for Precision Environmental Health | H. Courtney Hodges, Ph.D. |
| Center for Reproductive Medicine | Carolina Jorgez, Ph.D. |
| Center for Space Medicine | Iris Ali |
| Center for Space Medicine | Peter Norsk, M.D. |
| Dan L Duncan Comprehensive Cancer Center | Vacant |
| Huffington Center on Aging | Melanie Samuel, Ph.D. |
| Human Genome Sequencing Center | Aniko Sabo, Ph.D. |
| Lester & Sue Smith Breast Center | Laterrica Williams |
| Lester & Sue Smith Breast Center | Purba Singh |
| Lester & Sue Smith Breast Center | Xiang Zhang, Ph.D. |
Content
Inclusion and Equity Ambassadors - Schools

| School Name | Name |
| --- | --- |
| Graduate School of Biomedical Sciences | Alisha Harrison, M.B.A., M.H.A. |
| National School of Tropical Medicine | Fernanda Simone Tiu, Ed.D |
| National School of Tropical Medicine | Rojelio Mejia, M.D. |
| School of Health Professions - DNP-Nurse Anesthesia Program | Cora Rabe, D.N.P., CRNA |
| School of Health Professions - Genetic Counseling Program | Dan Riconda, M.S., CGC |
| School of Health Professions - Orthotics and Prosthetics Program | Amandi Rhett, M.S., CPO |
| School of Health Professions - Orthotics and Prosthetics Program | Sally DiBello, M.S., CPO, LO |
| School of Health Professions - Physician Assistant Program | Elissa Love, M.S., PA-C |
| School of Medicine | Joceyln Greely, M.D. |
| School of Medicine | Kaylinh Ly, B.S. |
| School of Medicine | Krista DeFalco, M.B.A., M.H.A. |
| School of Medicine | Phuong Huynh, Ph.D |
| School of Medicine | Traneshia Parker, M.A. |
| School of Medicine - Graduate Medical Education | Alicia Viney |
| School of Medicine - Graduate Medical Education | Caroline Hubbard, M.B.A. |