Master
Content
Viral gastroenteritis around the world causes 200,000 deaths globally each year. Mary Estes talks about her work on two gastroenteritis-causing viruses, rotavirus and norovirus, and tells the story of her discovery of the first viral enterotoxin. She also describes how noroviruses have changed from human volunteer studies to studies using "miniguts," a system now used with many enteropathogenic microorganisms.
Co-principal investigators Drs. Joseph Petrosino and Richard Gibbs were awarded a grant of up to $19.5 million from the NIH Genomic Centers of Infectious Diseases Program to study mucosal infection through the use of genomics and organoid model systems.
A Houston Chronicle article credits Dr. Paul Ling with helping to save one of the Houston Zoo's baby elephants suffering from an illness caused by elephant endotheliotropic herpesvirus.
Dr. Robert Britton has been selected as a recipient of the 2019 Michael E. DeBakey Excellence in Research Award.
In celebration of Woman's History Month, BCM highlights the research of Baylor Women of Science, including the work of Drs. Janet Butel, Mary Estes, and Rebecca Rico-Hesse.
Dr. James Collins was selected as a Texas Medical Center Digestive Disease Center 2019 Pilot/Feasibility Awardee for his research proposal titled "Adaptation and Spread of VRE".
As part of BCM's "Ask Me About My Research" series, Dr. Paul Ling describes his work on herpesvirus in elephants to a young guest.
Dr. Mary K. Estes was one of 148 renowned academic inventors named fellows of the National Academy of Inventors.
Drs. Mary K. Estes, Jeanette M. Criglar, B V Venkataram Prasad and colleagues have discovered that a cellular protein called CK1α is required to assemble rotavirus factories. See Image of the Month: Assembling a rotavirus factory.
A study by Drs. Sasirekha Ramani, Mary K. Estes, and colleagues showed that sugars in mother's milk influence neonatal rotavirus infection.
Dr. Lawrence Donehower and colleagues have shown that the PPM1D gene can confer blood cells exposed to the chemotherapy agent cisplatin a survival advantage that might favor the development of leukemia years later.
Dr. Joseph Petrosino and colleagues have identified distinct stages in infant microbiome development. Published in the journal Nature, their results are based on extensive analysis of data collected from a cohort of participants involved in the TEDDY diabetes study (The Environmental Determinants of Diabetes in the Young).
Dr. Betty Slagle and her team have been awarded one of the first grants from Baylor for precision medicine and population health topics for the project "Human liver organoid infection model for hepatitis B virus."
Research by Dr. Gretchen Diehl and colleagues reveals how the intestinal microbiota interact with the immune system to limit a damaging inflammatory response.
A study by Dr. Rebecca Rico-Hesse and colleagues showed that mosquito saliva alone can induce a diverse and complex immune response.
Dr. Margaret Conner was a guest scientist on a segment of the NPR program Science Friday about the relationship between immunoglobulin A and the microbiome.
Research on a universal flu vaccine, led by Dr. Robert Atmar, was featured in Scientific American.
Dr. Buck Samuel was an invited participant in the strategic planning initiative for the Genetics Society of America.
Dr. Susan Marriott was quoted in a CNN article that describes strategies and challenges in responding to a call to eradicate HTLV-1.
Dr. Peter Hotez has been elected to the American Academy of Arts and Sciences, one of the nation's most prestigious honorary titles.
Dr. Paul Ling and colleagues identified T cell immune responses directed against elephant endotheliotropic herpesvirus, which could lead to the development of an effective vaccine for this deadly disease.
Dr. Lynn Zechiedrich gave a presentation at the annual meeting of the National Academy of Inventors in Washington D.C. where she was inducted as a 2017 Fellow.
Dr. Robert Britton was featured in a New York Times article about the role of the processed food additive trehalose in cultivating the growth of more virulent strains of Clostridium difficile.
Years of basic research on rotavirus and vaccine candidate virus-like particles by Dr. Mary Estes, Dr. Sue Crawford, Dr. Margaret E. Conner, Dr. Sarah E. Blutt and other leads to a licensing agreement with ImmuCell and the development of a product to protect newborn calves from the diarrhea-causing disease.
The American Gastroenterological Association honors Dr. Mary Estes with the prestigious William Beaumont Prize in Gastroenterology and the Distinguished Mentor Award, marking the first time an AGA member has been awarded two recognition prizes in the same year.
Drs. Paul Ling and Angela Fuery identified three potential vaccine candidates for the lethal elephant endotheliotropic herpesvirus (EEHV) in a research collaboration with the Houston Zoo.
Dr. Robert Atmar was interviewed about the severe flu season in the media.
Dr. Robert Britton and colleagues published a study linking the increasing frequency and severity of outbreaks caused by the bacterium Clostridium difficile to the food additive trehalose.
Dr. Pedro A. Piedra explained the symptoms and risks of respiratory syncytial virus, RSV, the most important respiratory virus of infants and young children.
Dr. Lynn Zechiedrich was named a fellow of the National Academy of Inventors for work that includes the development of supercoiled minivectors for gene therapy applications.
Dr. Jennifer Auchtung has received an award from the CDC for innovative research to combat antibiotic resistance as part of the Antibiotic Resistance Solutions Initiative.
Dr. Buck Samuel has received a New Innovator Award from the National Institutes of Health, an award which funds unusually innovative research from early career investigators.
Chikungunya virus vaccine trial has been initiated at Baylor as part of the NIH-funded Vaccine and Treatment Evaluation Unit with Dr. Hana El Sahly as principal investigator.
Dr. Sarah Blutt discusses how training and working at Baylor has impacted her life and career in a feature story in Growing Up Baylor.
Dr. Buck Samuel was awarded a Community Science Program microbial genomes grant from the Joint Genome Institute for genomic analyses of the natural microbiome of Caenorhabditis elegans.
Dr. Mary Estes is a 2017 DeBakey Excellence in Research Award recipient.
Dr. Janet Butel honored with the Distinguished Alumnus Award – Graduate School of Biomedical Sciences.
Drs. Anthony Maresso and Frank Ramig have reported that bacteriophages can effectively combat antibiotic-resistant bacterial "superbugs".
A symposium in honor of Dr. Janet Butel's contributions as a researcher and a mentor was held on a day declared Dr. Janet Butel Day by Houston Mayor Sylvester Turner.
A study by Drs. Mary Estes, Sarah E. Blutt, Sue E. Crawford, Margaret E. Conner, and others showed that human rotavirus manipulates the immune response to maintain infection.
Dr. Rebecca Rico-Hesse participated in a study that found that Zika virus replicates in placental trophoblasts.
Dr. Mary Estes was mentioned in a Wall Street Journal article on norovirus.
Dr. Andrew Rice was a presenter at the Cold Spring Harbor Laboratory meeting on "HIV/AIDS Research: Its History and Future".
Dr. Mary Estes and colleagues have, for the first time, succeeded at growing noroviruses in laboratory cultures of human intestinal epithelial cells.
Dr. Peter Hotez discussed concerns regarding Zika virus in an Op-Ed article in the New York Times and other media outlets.
Dr. Lynn Zechiedrich and colleagues reported a detailed three-dimensional structure of biologically active DNA.
Dr. Pedro Piedra was interviewed by KPRC Channel 2 about flu vaccine development.
Dr. Paul Ling's work on elephant herpesvirus was featured in a front page article in The Houston Chronicle.
Dr. Qizhi Cathy Yao was the first recipient of the Barry Stephen Smith Memorial Pancreatic Cancer Award through the NCI-designated Dan L Duncan Comprehensive Cancer Center for her pilot project "A Personalized Pre-Clinical Study of a Novel Pancreatic Cancer Immunotherapy."
Dr. Mary Estes and colleagues were awarded an NIH grant to engineer physiologically active "mini-guts" to aid in the study of rotavirus and other enteric pathogens.
Dr. Janet Butel was honored at the Texas Medical Center Women's History Project reception.
Dr. Pedro Piedra was quoted in an Associated Press story about developing a better vaccine for next flu season.
Dr. Mary Estes was one of three women honored at the 2015 Women in Science with Excellence luncheon.
Dr. Mary Estes shared her passion for solving microbiology mysteries.
Dr. Mary Estes and collaborators reported on a bacterial protein that activates the innate immune system against rotavirus.
Dr. Peter Hotez was interviewed by media outlets about putting Ebola's risks into perspective.
Finding a way to grow norovirus in the laboratory.
Dr. Janet Butel was among the women honored at The Health Museum's Hearts of Gold Gala.
Dr. Mary Estes and colleagues reported a reverse genetics system that could ease norovirus research.
Dr. Joseph M. Hyser has received the Elsevier Pilot Research Award from the American Gastroenterological Association Research Foundation.
Dr. Blaine Hollinger interviewed by the Houston Chronicle about hepatitis C eradication.
Dr. Tony Piedra discusses current flu vaccine on a local television program.
Dr. Paul Ling and the Houston Zoo awarded a large grant to combat elephant herpes virus.
Multimillion dollar contract provides funding to continue vaccine research.
Dr. Janet Butel was honored at the 2013 BioHouston Luncheon celebrating Women in Science.
MVM researchers investigate bird flu vaccine
Dr. Paul Ling discusses elephant herpes virus in a radio interview.
Dr. Lynn Zechiedrich finds an old drug fights resistant bacteria
Dr. Robert Atmar interviewed by ABC News about the new SARS-like virus
Hollinger recognized for work on U.S. committee
First major papers arising from the Human Microbiome Project are published
A study by Drs. Prasad and Estes shows that blood type A may predispose to some rotavirus infections
Chisa Echendu, former Ling lab graduate student, overcomes adversity to celebrate match day
Heading
Alumni in the News
Media Component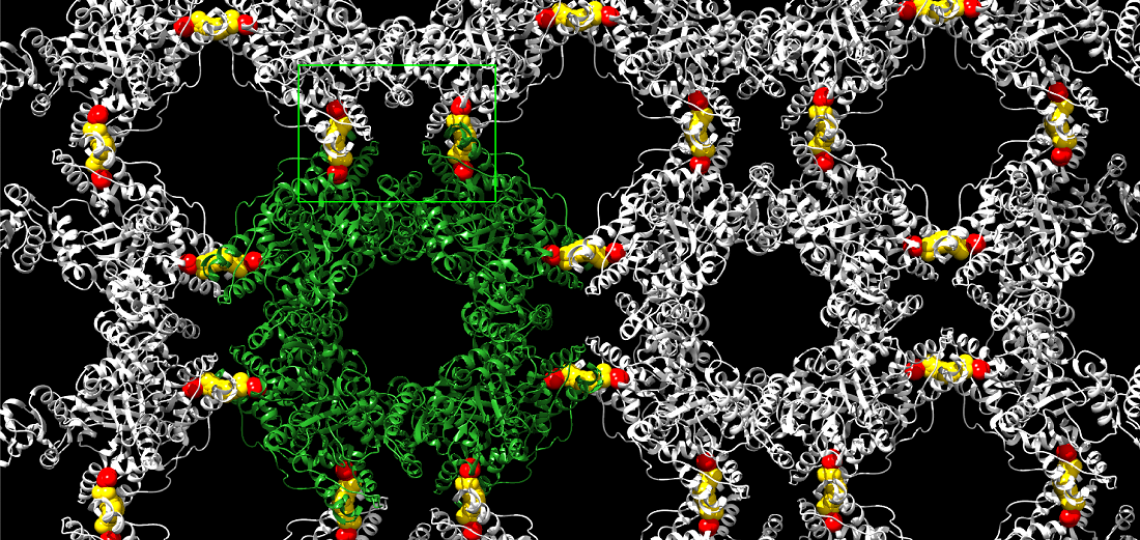 Content
Image of the Month: Assembling a rotavirus factory - From the January 2019 issue of "From the Labs"
When CK1α adds phosphate groups to NSP2 (shown in the green rectangle), it triggers the assembly of NSP2 octameric units into a crystal-like structure that appears to be required for the formation of rotavirus factories. Courtesy of the Estes lab.
Media Component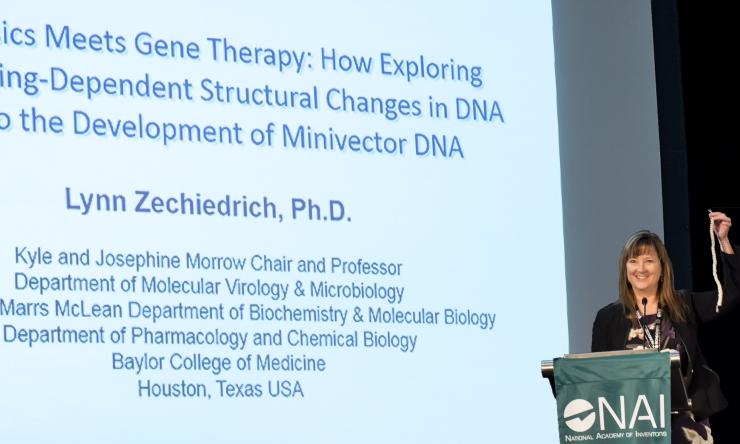 Content
Lynn Zechiedrich talks to the National Academy of Inventors at her induction to the organization.
Media Component
Credit
Copyright © American Society for Microbiology, J Virol 92:6, 2018. Stephanie Adams, Houston Zoo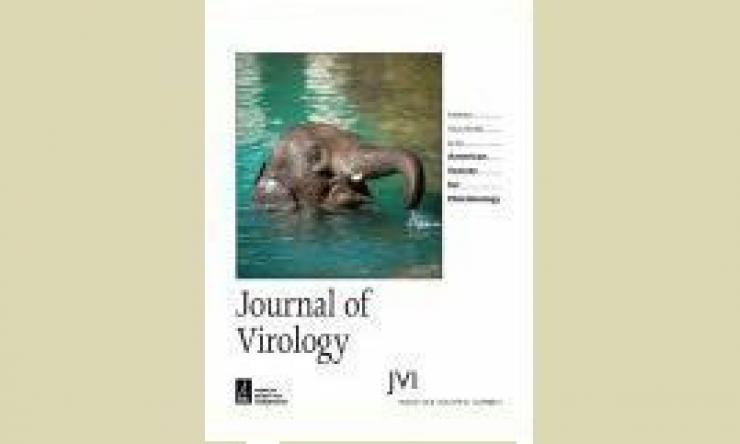 Content
Baylor, the elephant, on Journal of Virology's March 2018 cover, an issue that describes work by Dr. Paul Ling in identifying potential vaccine candidates for elephant endotheliotropic herpesvirus in collaboration with the Houston Zoo.