Master
Media Component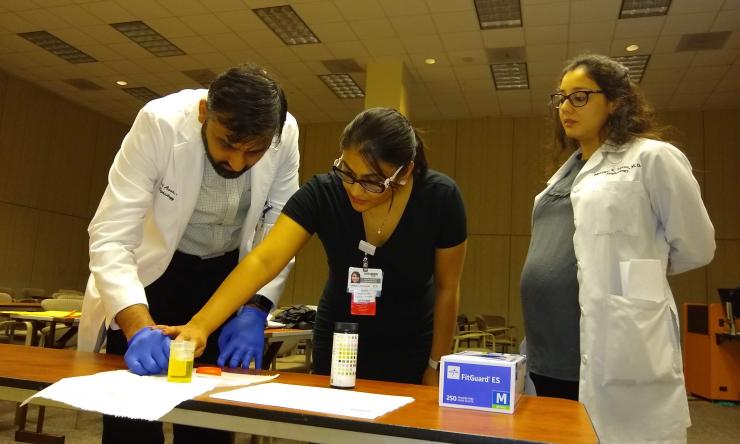 Media Component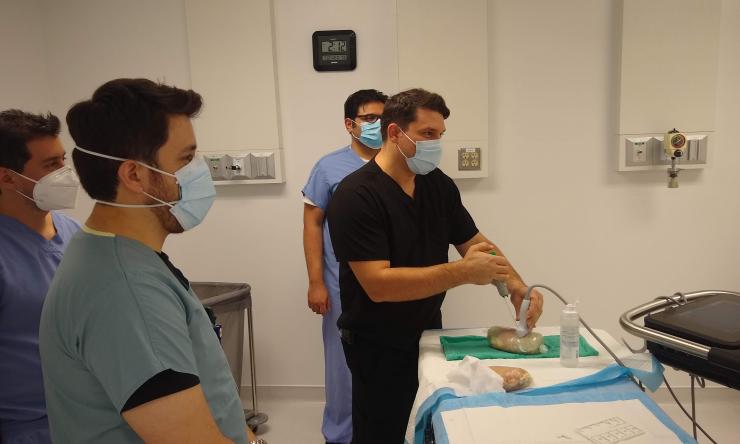 Content
Starting in March 2020, all didactic conferences have been moved to an online platform in response to the Covid-19 pandemic. We anticipate that the online platform will continue until social distancing restrictions ease.
The Wednesday 2:30 p.m. fellows' didactic lecture series is the seminal educational platform for our fellowship program. There are no outpatient clinics scheduled on this day, permitting all faculty and fellows to dedicate this time for education. We divide the academic year into 22 two-week content blocks, for example, kidney transplantation, glomerular disease, or physiology. Each block features outstanding section or guest lecturers along with an internal quiz to assess knowledge. Each block includes assigned reading material which are discussed during the monthly Program Directors meeting.
Trainees participate in monthly hands-on workshops, such as urinalysis or central line placement. Our fellows take four examinations throughout the year to assess knowledge. One of these examinations is the In-Training Examination (ITE) sponsored by the American Society of Nephrology. In both 2016 and 2018, one fellow from our program had the highest score in the nation. Each year, our fellows collectively score above the national mean.
Content
Didactic Schedule - At a Glance

Day

Conference

Monday

Transplant Biopsy conference (weekly; noon)

Tuesday

Seminars in Evidence Based Medicine (weekly; noon)

Wednesday

Biopsy Conference (monthly; noon)

Renal Grand Rounds (weekly, 1:30 p.m.)

Fellows Didactics (weekly, 2:30 p.m.)

Thursday

Chapter Assessment Program Director Meeting (monthly; noon)

Board Review (monthly; noon)

Friday

Bayou Beans Journal Club (monthly; noon)
Content
Baylor College of Medicine and Houston Methodist Hospital Renal Grand Rounds - This is a weekly one-hour formal seminar held EVERY Wednesday at 1:30 p.m. at the Houston Methodist Bluebird Auditorium. A wide range of mainly clinical topics are presented by invited local and outside faculty, often nationally and internationally renowned scientists
Medical Grand Rounds - These one-hour sessions are held on Thursdays at noon at the M112 Auditorium, Baylor College of Medicine. Formal presentations are given by local as well as national and internationally recognized faculty, periodically members of our section are invited to speak.
Content
Renal Pathology Conferences - There are two one-hour sessions each month. The first Wednesday of each month as part of our Renal Grand Rounds series (with the Methodist Hospital program) and the second Wednesday at noon (with The University of Texas Nephrology program). In both conferences, our fellows prepare the case history and discussion of a patient in which he or she performed the biopsy or worked-up the patient. The nephropathologist aids with the interpretation of the biopsy. The goal of this conference is to learn how to interpret renal biopsies and correlate the clinical and pathological findings. This conference also provides a useful forum to exchange innovative ideas. It is well attended by local nephrologists in academics and private practice.
Clinicopathological Conferences. Once a month, the grand rounds is a one-hour CPC in which the invited speaker (and the audience) must deduce the differential diagnosis for an anonymous patient. Faculty forum the Section of Nephrology discuss two CPCs annually.
Nephrology Board Review - There is a dedicated monthly board review conferences on the third Thursday each month led by Associate Program Director Dr. Maulin Shah.
Tough Beans Monthly Case Conference - This is a forum to discuss interesting non-biopsy Nephrology teaching cases. This is once monthly online conference led by Dr. Jingyin Yan. The conference is open to all faculty and fellows, as well as all BCM alumni. It is a new conference for 2020-21 academic year.
Research Meeting and Research Projects - This is a one-hour session on Tuesday at 3 p.m. with the purpose of reviewing the ongoing research of a faculty, fellow or postdoc in the lab. This is a form to present ideas for critique or discussion, or ongoing research.
Monthly CAPD Meeting - CAPD = Chapter Assessment & Program Director. On the last Thursday of each month, fellows and director meet confidentially to discuss assigned chapters from the Primer on Kidney Disease and acute issues with the training program or specific rotations. Lunch is provided.
Difficult Conversations in Kidney Disease - This is an quarterly workshop facilitated by Dr. Walter Baile (Psychiatry, MD Anderson) and Dr. Maulin Shah which teaches our trainees how to lead challenging conversations such as 'discussing initiation of dialysis' and ' facilitating withdrawal of care.' Participants find the experience, "extremely worthwhile!"
Heading
Nephrology Division Educational Seminars
Content
Transplant Seminar - This is a joint seminar series with the Houston Methodist Transplant service EVERY Monday at noon. Cases are discussed in a multidisciplinary board. Lunch is provided.
Seminars in Evidence Based Nephrology - This journal club is held EVERY Tuesday at noon, lunch is provided. We discuss landmark Nephrology articles with a focus on the statistical methodology. The journal club time slot is periodically used for Morbidity and Mortality and Quality Improvement discussions. We host a twice yearly internal Jeopardy Competition – go Faculty! Dr. Carl Walther pairs this weekly conference with monthly online quizzes teaching evidence-based medicine for trainees. Each fellow is expected to present at least twice yearly. Nephrology faculty, including Dr. Paul Klotman, present yearly.
Content
**In addition to the above listed formal conferences, a series of introductory lectures are given at the beginning of the academic year on dialysis, transplantation and the care of renal emergencies.