Master
Media Component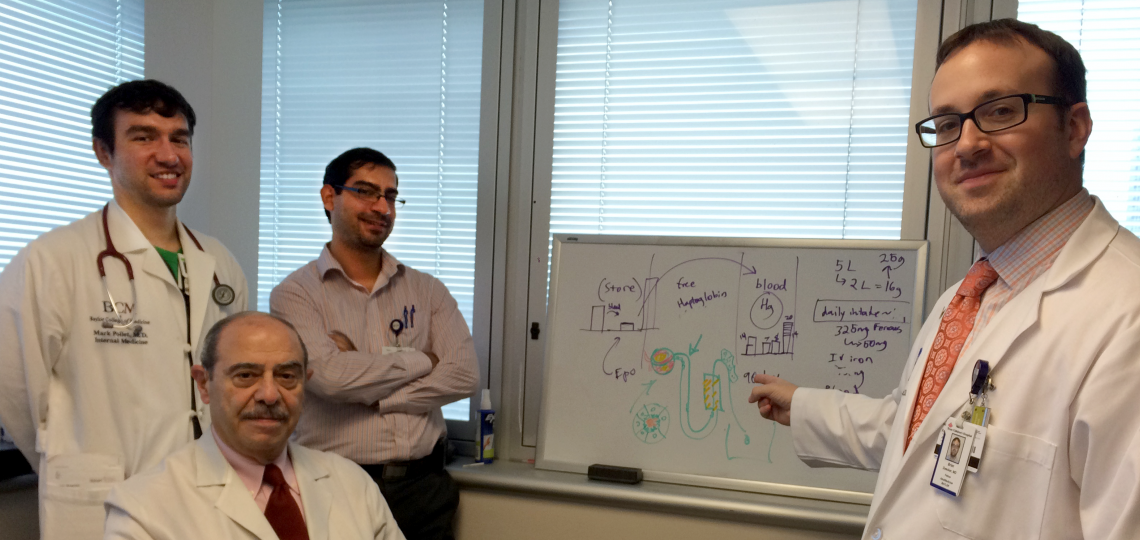 Content
Rounds at the Ben Taub Hospital: Dr. Eknoyan, seated, teaches, from left, Drs. Pollet, Abu-Farsakh, and Zwecker about the nephron.
Content
Our fellowship handbook provides more details.
Ben Taub Hospital (County Hospital) - There are three consult-only services: Acute, ESRD and Procedure. The acute service fellow manages a team with students and residents. Cases at the county hospital are fascinating and fellows have a significant amount of autonomy. The ESRD service is responsible for all admitted patients who require chronic dialysis, as well as the patients who receive emergent dialysis only. The procedure fellow typically performs one to 10 biopsies per month, places one ortwo temporary dialysis catheters, learns diagnostic renal ultrasonography, and observes interventional nephrology procedures. Plasmapheresis is done by our dialysis nurses and the clinical pathology service. Our Procedure fellow is expected to take an active role in all nephrology-related pheresis cases. During this four-week block, the fellow will take one week of night float (Sunday to Friday).
Michael E. DeBakey VA Medical Center - There are two fellows on the MEDVAMC inpatient consult-only service, along with students and residents. One rotation is designated for critical care and involves caring for patients in the medical and surgical ICUs.
Our Houston VA is one of only five VA centers in the country that performs kidney transplants. It is the only VA medical center that performs liver and heart transplantation. Part of the responsibility is learning how to track data in the UNOS system.
The third fellow at the MEDVAMC has 50 percent clinical responsibility and the majority of this time is available for research. Typically, all clinical fellows in our program will have approximately three months of research time averaged over a two-year period. During this rotation, the fellow will take one week of night float (Sunday to Friday).
Houston Methodist Hospital (Private) - The fellow at Houston Methodist rounds one-on-one with the attending. Most of the patients on this service are renal transplant patients. There is opportunity to preform transplant renal biopsies. The team is primary on all patients who have been transplanted within the past six months.
Baylor St. Luke's Medical Center (Private) - There are two services at this hospital. The inpatient service is a typical academic team with a faculty, two residents, one student, and the nephrology fellow. Care is provided to a variety of patients with kidney disease, including those on continuous dialysis or status post complex cardiac surgeries. This fellow also covers the Pavilion for Women to care for pregnant women with kidney disease. The fellow will see patients admitted for transplant of the kidney, liver, or dual organ.
The fellow on the second service has two weeks of night float (Sunday to Friday) and the remaining two weeks will be spent in a variety of outpatient clinics. There is also time for independent study.
MD Anderson Cancer Center (Public) – There is one fellow who rounds at MDACC each month. This rotation offers exposure to inpatient onco-nephrology. Fellows at this site round alongside trainees from the University of Texas Houston fellowship program.
Heading
Outpatient Rounding Responsibilities
Content
Most Nephrology clinics occur in the afternoon, this allows our fellows on inpatient rotations to complete patient care tasks in the morning. There are no clinics on Wednesday afternoon; this time is reserved for didactics.
Harris Health General Nephrology Clinic - This multi-disciplinary clinic is at the Smith Clinic on Friday afternoon. It includes faculty, fellows, residents, and students, as well as a dedicated renal dietician and social worker. Our fellows spend an average of six months in this clinic over a 2-year period.
MEDVAMC General Nephrology Clinic - This clinic is at the VA Hospital on Monday afternoon. Faculty and fellows are paired to provide care for a panel of patients. Following clinic, the faculty leads a 15-minute discussion on various general nephrology topics. Each fellow spends six months in this clinic over a 2-year period.
Houston Methodist Transplant Clinic - This clinic is at the Methodist Outpatient Center on Tuesday afternoons. The clinic is staffed by Baylor faculty and several dedicated transplant coordinators. It is a wonderful clinic to learn management of post-transplant patients. Each fellow spends an average of six months in this clinic over a 2-year period.
Miscellaneous Outpatient Clinics - The miscellaneous clinics include: Kidney Stone (jointly with Department of Urology), Baylor Medicine Private Practice (Baylor College of Medicine), Pediatric Nephrology (Texas Children's Hospital), Peritoneal Dialysis (DaVita Home at the Museum), Resistant Hypertension (MEDVAMC), VA Transplant Clinic (MEDVAMC), Hemodialysis (Riverside Dialysis Center), Vascular Access (Orbis Access Center), Harris Health Outpatient Kidney Biopsy Clinic (Ben Taub), Harris Health Glomerulonephritis Clinic (Smith Clinic), and BSLMC Transplant Clinic (Baylor Clinic). Fellows are assigned to attend these clinics only during specific rotations.
Medical Directorship: Continuous Quality Improvement (CQI) - Our faculty manage more than 500 dialysis patients and hold medical directorships at numerous outpatient clinics. Each fellow will be assigned four CQI meetings per year to learn how patient care is delivered at a large dialysis clinic.