Master
Media Component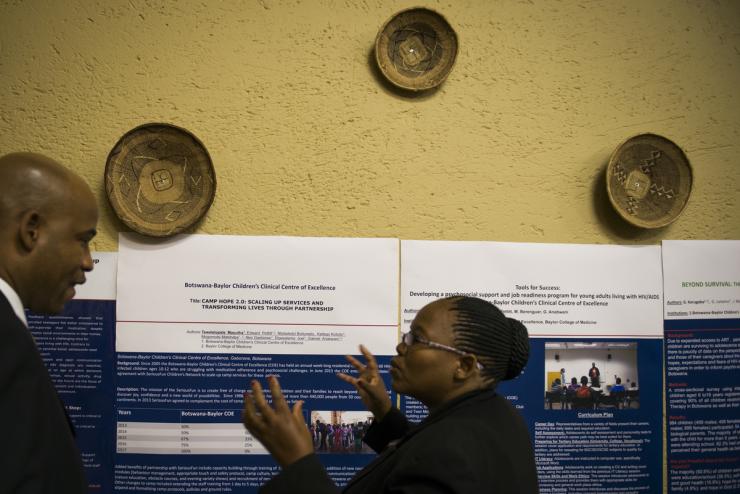 Content
Research projects focus on the diagnosis and treatment of childhood tuberculosis in the international setting, the elimination of HIV transmission to at-risk youth, best practices of HIV mother-to-child transmission prevention, treatment of HIV infection in infants, children, adolescents, and young adults, and outcomes in perinatally HIV-infected youth. See information about our international research conducted by BIPAI.
Retrovirology conducts clinical studies sponsored by the NIH funded Adolescent Trials Network. The primary mission of the ATN is to conduct research, both independently and in collaboration with existing research networks and individual investigators, in HIV-infected and HIV-at-risk pre-adolescents, adolescents, and young adults up to age 25 years.
Retrovirology also collaborates with Immunology, Allergy and Rheumatology to conduct the NIH-funded trials within the International Maternal Pediatric Adolescent AIDS Clinical Trials Group and the Pediatric HIV/ AIDS Cohort.
Content
AMC 072: Protective effect of quadrivalent vaccine in young HIV positive males who have sex with males.
ATN 095: Connect to Protect (C2P) implements a community mobilization intervention, which entails developing coalitions to plan for and bring about structural changes for purposes of reducing HIV incidence and prevalence among youth.
ATN 110: Project PrEPare is an open-label demonstration project and phase II safety study of pre-exposure prophylaxis use among young men who have sex with men.
ATN 116: Structural enhancements to the strategic multi-site initiative for identification, linkage, and engagement-to-care (SMILE) program.
IMPAACT P1026S: Pharmacokinetic properties of antiretroviral therapy during pregnancy.
IMPAACT P1080: Mary E. Paul, M.D. is the vice chair of this study entitled, A Pilot Study of Psychiatric and Antiretroviral Medication Concentrations in HIV-1 Infected and Uninfected Children and Adolescents.
IMPAACT P1093: Phase I/II, multi-center, open-label, pharmacokinetic, safety, tolerability and antiviral activity of GSK1349572; a novel integrase inhibitor, in combination regimens in HIV-1 infected infants, children and adolescents.