Master
Content
There are three main related projects in the Lacorazza laboratory:
Heading
Genetic Regulation of Hematopoietic Stem Cells
Content
Blood cells are continuously generated by the differentiation of hematopoietic stem cells (HSC) in the bone marrow. A multipotency restricted to the hematopoietic system has been exploited for cell and gene therapy and the regeneration of the hematopoietic system in cancer patients. More than 80% of HSC remain in a reversible non-proliferative state (quiescence) in specific regions of bone marrow (stem cell niches), ensuring stemness and longevity over the lifetime of an individual. Cell division imposes diverse fates in HSC: differentiation into lymphoid or myeloid lineages, generation of daughter cells with same stem cell properties of parental cell (self-renewal), mobilization to peripheral tissues, or death.
The current paradigm indicates that quiescence is an active process regulated by stem cell intrinsic (SCI) and extrinsic (SCE) factors. Our laboratory has studied SCI factors involved in the regulation of HSC quiescence. The transcription factor ELF4 is amongst few genes described to negatively regulate HSC quiescence during homeostasis but not during regenerative hematopoiesis (Cancer Cell, 2006). We later identified G0/G1 switch gene 2 (GOS2) as a positive SCI factor of HSC quiescence by "sequestering" nucleolin in the cytosol (PLOS ONE, 2012; Cell Cycle, 2013). Chronic myeloid leukemia (CML) cells also use this mechanism of G0S2-mediated retention of nucleolin in the cytosol to modulate quiescence, emerging as a novel 'player' in leukemia with putative function as tumor suppressor (Leukemia Research, 2014).
Media Component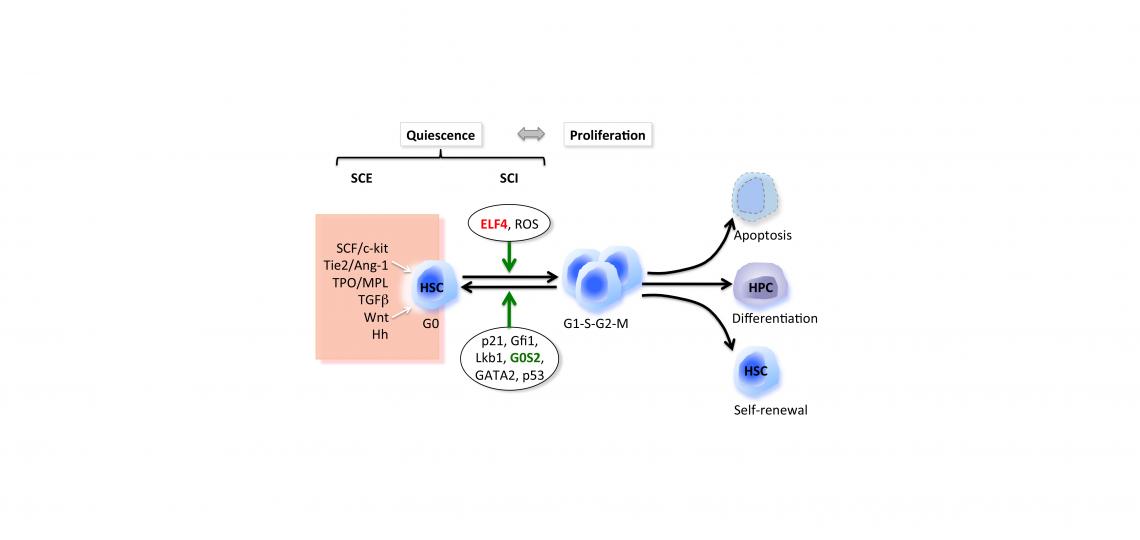 Content
Control of HSC Quiescence
Heading
Pathobiology and Therapy of Leukemias
Content
Leukemic cells hijack many properties of HSCs to ensure longevity, chemoresistance, and capacity to recapitulate leukemia (relapse). We have developed genetic mouse models to study acute lymphoblastic leukemia (ALL), the most common hematological malignancy in children, and chronic myeloid leukemia (CML), a paradigm of stem cell leukemia.
The inhibition of self-renewal in cancer stem cells has the potential to induce complete remission by targeting different properties than standard chemodrugs. Self-renewal is a specialized cell division uncoupled from differentiation that generates daughter cells with same properties of the cell of origin. Self-renewal has been recognized as an important target for therapy in malignancies such as colorectal and blood cancers because self-renewing cancer cells can continuously feed neoplasm and cause relapses. Our goal is to identify new targets to eradicate self-renewing LSCs and potentially 'cure' patients with stem cell leukemias.
We are developing new therapies for high-risk leukemia patients. We recently described the anti-leukemic properties of sulforaphane, a natural product found in cruciferous vegetables, in pediatric ALL (PLOS ONE, 2012). Further, cell-based high-throughput screen of chemical libraries is currently employed to identify new drugs that can selectively eliminate leukemia stem cells (CML) and leukemia initiating cells (ALL).
Media Component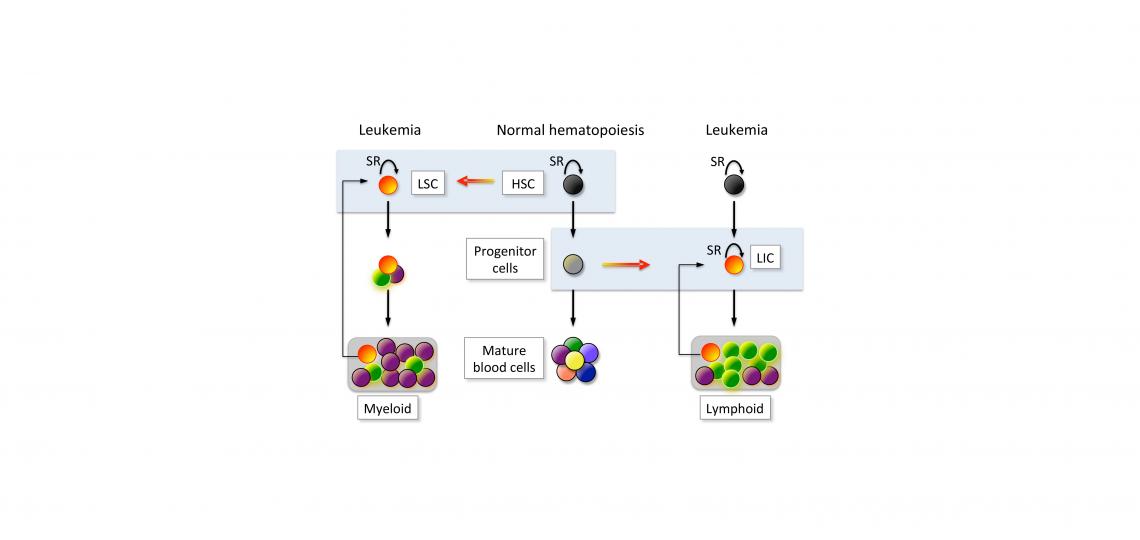 Content
Leukemic Stem Cells (LSC) and Leukemic Initiating Cells (LIC)
Heading
Development and Function of Lymphocytes
Content
Lymphocytes are cells with important function in adaptive immune response that share many key properties with HSCs, particularly quiescence, longevity, and differentiation potential (effector T cells, memory T cells). We described that the transcription factor ELF4 induces cell cycle arrest in naïve T cells by activating the tumor suppressor KLF4 downstream of the T cell receptor (TCR) and the mammalian target of rapamycin (mTOR) signaling (Nature Immunology, 2009; Journal of Immunology, 2010). Furthermore, loss-of-ELF4 led to impaired function of memory CD8 T cells (European Journal of Immunology, 2013) and increased differentiation of Th17 CD4 T cells (Journal of Immunology, 2014). We are integrating our knowledge of immunity to the leukemogenic process.